Twitter Testing New Ad Targeting
Jul 16th, 2013
Comments Off

on Twitter Testing New Ad Targeting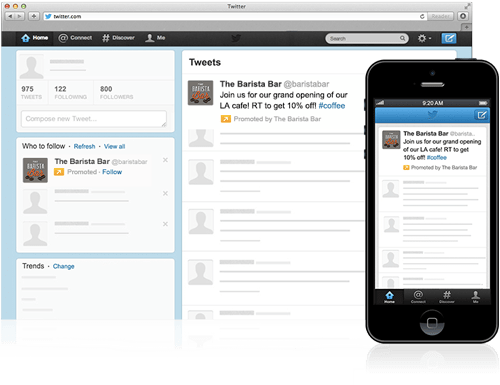 Twitter announced earlier this month that they are testing new ad targeting options. Users won't necessarily see more ads, however the new options will allow advertisers to showcase promoted tweets and promoted accounts to more relevant Twitter users.
Twitter will now have the ability to display targeted ads to users who have visited a company's website or by viewing the company's ads on another site (retargeting). In this scenario, Twitter will receive a cookie and can then match the cookie ID back to the advertiser and showcase promoted tweets from that advertiser in a user's stream. In addition, advertisers can also share lists of email addresses with Twitter (in an "unreadable" format) and Twitter can match the address to your Twitter account for enhanced targeting.
Advertisers won't have access to any new or different information with the new updates. They'll continue to receive the same reports as before, without containing any personal identifying information.
Users are all participating in the new targeting options by default, however they can opt out at any time from within their Twitter settings page. The team is testing the enhanced targeting in the US only, but will likely push out the capabilities internationally if results are strong.
via Twitter
Recent Posts

Yahoo has agreed to sell its core business to Verizon for $4.83 billion. As part of the deal, Verizon will acquire Yahoo's search, mail, instant messaging services, ad platform, and a few real estate holdings. The move puts Verizon behind Google and Facebook in the U.S. digital ad segment, with a total share of 4.5%

Google sunset their Shopper app last month, an app with millions of downloads that helped users find product information and organize shopping lists